Incorporating nature into bathroom design can create a soothing and refreshing environment.
Here are some ideas to incorporate nature into your bathroom:
Natural Materials:
Use natural materials such as stone, wood, or bamboo for flooring, countertops, and accents. These materials provide a sense of organic beauty and a connection to nature.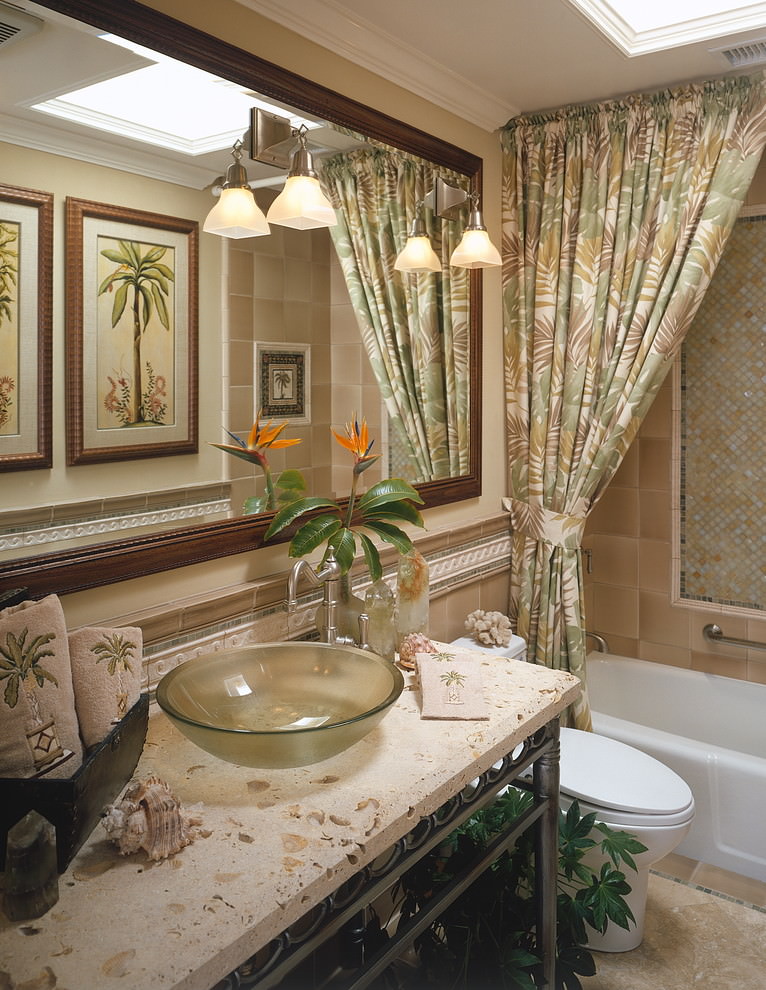 Incorporating Nature into Bathroom Design – Plants and Greenery
Introduce plants and greenery into your bathroom to create a lush and calming atmosphere. Choose plants that thrive in bathroom conditions, such as ferns, orchids, or snake plants. Place them on shelves, countertops, or hang them from the ceiling.
Natural Light:
Maximize natural light in your bathroom by using sheer curtains or frosted glass to allow sunlight to filter through. If privacy is a concern, consider using skylights or strategically placed windows to bring in natural light while maintaining privacy.
Views of Nature:
If possible, position your bathroom to offer views of nature, such as a garden, courtyard, or natural landscape. This connection to the outdoors can create a tranquil and serene ambiance.
Earthy Color Palette:
Choose earthy color tones inspired by nature, such as soft greens, blues, warm neutrals, or earthy browns. These colors evoke a sense of calmness and can mimic natural elements.
Natural Textures:
Incorporate natural textures into your bathroom design. Consider using pebble or stone tiles in the shower area, bamboo or wood accents, or textured wallpaper that resembles natural materials.
Water Features:
Incorporate water features like indoor fountains, cascading water walls, or small tabletop water features. The sound of running water can create a soothing and spa-like atmosphere.
Incorporating Nature into Bathroom Design – Organic Bath Products:
Opt for natural and organic bath products with botanical or herbal ingredients. These products can enhance the sensory experience and promote a connection to nature.
Nature-Inspired Artwork:
Display artwork or photography that showcases natural landscapes, seascapes, or botanical motifs. These pieces can add visual interest and reinforce the connection to nature.
Incorporating Nature into Bathroom Design – Natural Aromas:
Use essential oils, scented candles, or natural room sprays with botanical fragrances to infuse the bathroom with natural aromas. Scents like lavender, eucalyptus, or citrus can create a spa-like ambiance.
Remember to balance aesthetics with practicality and ensure that any natural elements incorporated into the bathroom are suitable for the high humidity environment. With thoughtful design choices, you can create a bathroom that brings the calming and rejuvenating qualities of nature into your daily routine.