Coloured tiles have the capacity to add a huge amount of warmth and character to any home. They are generally the place to explore really dense, exotic designs. In addition, they add some much-needed accent colour to a room. On the other hand, tiles are so difficult to remove if they aren't quite right. At the same time, a subtle design can look surprisingly strong when it covers a large space. Therefore, you need to be careful with regard to your final decision.
Tiny Floral Floor Tiles Design
The size of the design can make a big impact in a large space. Hence, a pretty small floral design like this looks great when teamed with plain walls. Simultaneously, the walls make for a nice calm counterpoint to the business of the floor design.
A Half Wall with Moroccan Flourish
The dense intricacy of Arabic tile designs can easily overwhelm a space.
Coloured Tiles to add Energy to the Corridors
A bold geometric tile design adds a lot of energy to any room. In particularly helpful in a hallway or corridor. That is since hallways are generally best left quite clear of furnishings and can easily feel a bit empty. 
 A Decorative Feature Wall
Some tile designs are just so beautiful. Therefore, you may just want to add them in a small area to create a little feature wall. Neutral or earth-coloured hues are a good choice. This is because they often work in with the base colours in many modern homes.
Style Up the Stairs
Stairways, like hallways and corridors, often need to be kept quite clear of decorations. Hence, this is where coloured tiles can come in handy. Often all you need to do is tile up the riser on the stair that the stairs will have that extra boost.
Coloured tiles – A Dash of Formality with a Strong Border Pattern
Black and White Checkerboard Tiles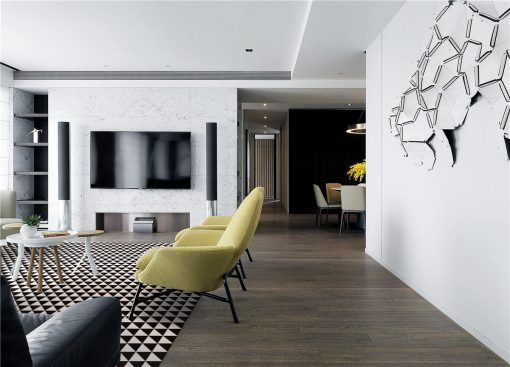 Classic Rustic Red English-Style Terrace
Coloured tiles – A Bold Turquoise Colour Statement